5 Tips in Choosing Bar Table
Whether you have a small or a large kitchen, having a bar table is like adding a touch of elegance to your space. In the past, only a few people actually had bar tables, but they've become very common recently since they are now considered a part of your kitchen design.
Getting a bar table set doesn't have to be too complicated. It's not too difficult to find a good one if you know the qualities that you're looking for. Here are some of the simple tips that you can follow if you want to find the best bar height table in the market.
How to Choose a Bar Table?
1. Height of the Bar Table
This is one of the most important factors that you have to consider when buying a bar counter. Most people would design their tables depending on their height. This is not a bad idea, but they are usually higher compared to the kitchen counter.
Some people, on the other hand, focus on standard heights. They usually have a height of 90cm, which is the same height as your kitchen counter. This is ideal if you want to use counter stools as it would allow you to sit properly without your knees bumping under the surface.
Although the standard is 90cm, you can get a higher table. You can opt for a bar counter with a height of 100 to 110cm. With this, you can just stand and have your breakfast on the counter or you can also sit down on the bar stool.
If you don't want to worry about the height, you can find an adjustable bar table where the height can be adjusted depending on your preference. The minimum and maximum height would depend on the brand that you're going to buy so make sure that you check the details first before you decide.
2. Size and Shape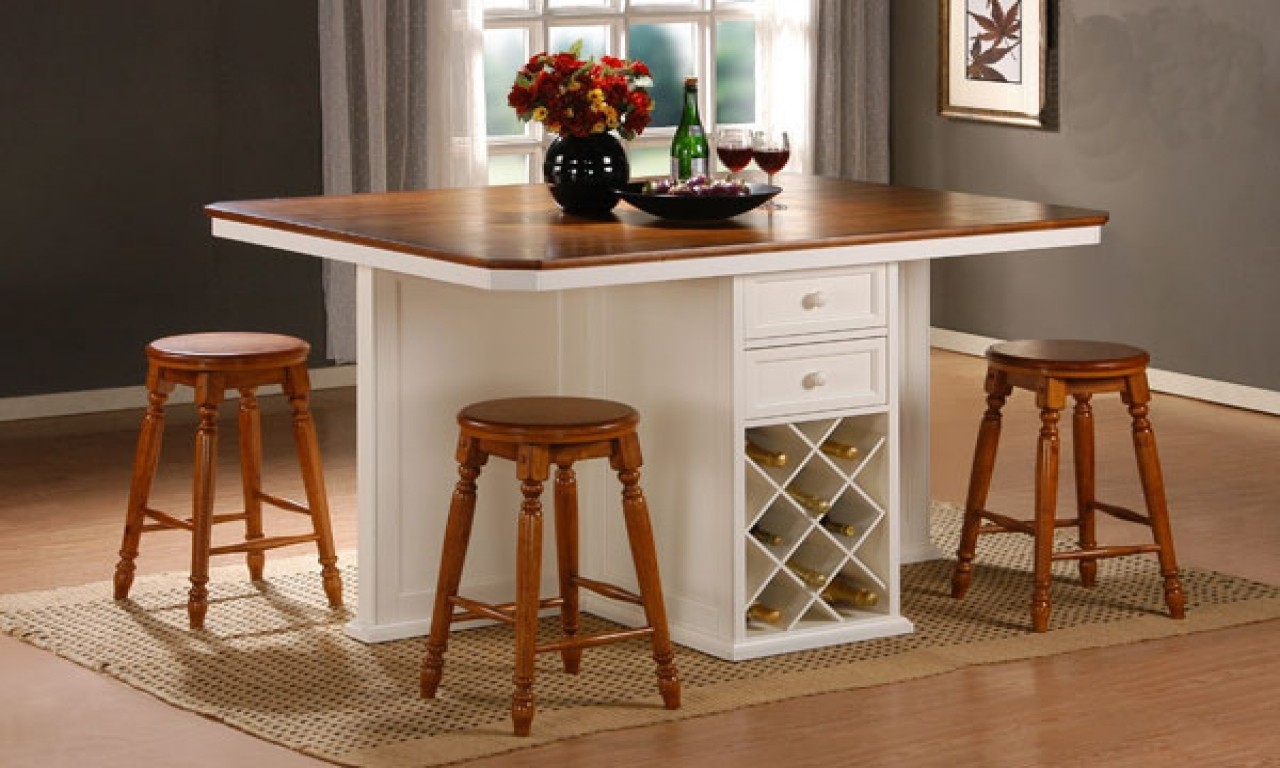 The size and shape of the bar counter will depend primarily on how you plan to use it. If you're going to use a table with bar stools, the size of the top should depend on the number of people that would sit around it at one time.
The average design has a 60cm diameter and a base of 45cm. This is pretty good for a few people, but you need to decide based on the number of people in your family or the guests that you want to accommodate.
Aside from the size, the shape of the table should also be considered. Before you decide, here are some of the shapes that you can consider:
Round tables:

This is a more compact option and it is very useful in high-traffic areas. This is because the edges of a square or rectangular table can cause accidents.

Square tops:

This model is perfect for large spaces. Since a square table has edges, it means that you need to have more room for people to move around. It also means that a square or rectangular top can fit more people compared with a round table.
3. The Finish of the Table Top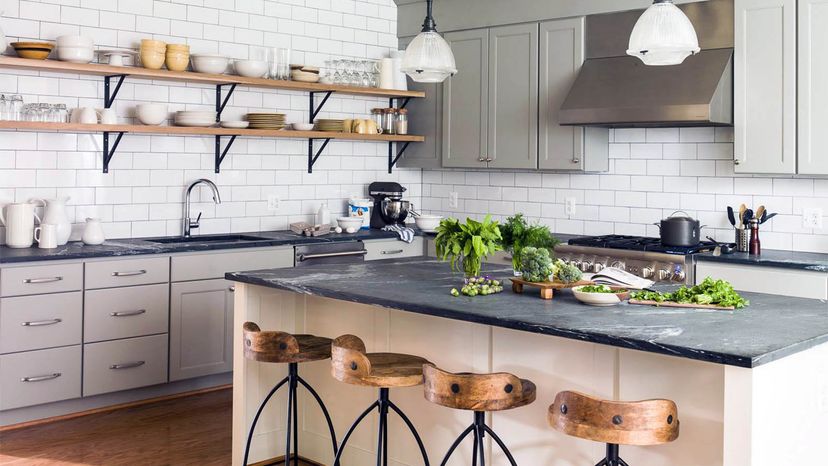 Since you're buying a bar counter for aesthetic purposes, make sure that you check the tabletop finish before buying. Basically, the tabletop finish would be the focal point of this table. You need to look for a design that would fit perfectly with the style of your kitchen. Remember that its finish would define the overall look of the bar counter so you need to be very careful with this.
Again, you need to know the main use of your bar counter before you look for a design. If you will serve food and drinks on top of the counter, make sure that you choose a design with a surface that's very easy to clean. A molded ABS plastic finish would be a good choice for this. This is a durable and versatile surface and it comes in a variety of colors so you can surely find something that would fit the design of your kitchen.
You can also opt for wooden tops if you want since they are also low maintenance. Try to get a tabletop with a rich walnut or light beech as they offer a more stylish appeal. If you want something different, using faux leather can create a traditional style with a modern twist. Granite or marble will also be a good choice for the tabletop.
Glass tops can be a good choice as they are easy to clean, and waterproof, and they are available in different styles. The only downside is that they can get damaged easily.
4. Frame Finish
Most people won't really care about the frame finish since it doesn't have the same impact as a tabletop. However, choosing the frame carefully can bring the overall look of your bar counter to the next level.
The best way to choose a frame is to check all the other items in your kitchen. If you already have bar stools, you can match the frame of the bar counter to their design. If you opt for chrome bar stools, you can get a chrome frame.
If you have brushed steel appliances in the kitchen, you can go with matte brushed steel for the table frame so it will have a more coordinated look.
5. Features
If you decide to buy a ready-made bar table, you might notice that they come with different features that would make your life more comfortable. Here are a few features that you might want to check out when buying a bar counter table.
Foldaway:

This is definitely a feature that you might want if your kitchen is not too big and you don't want a bar counter in your kitchen space. This is perfect for occasional use since they can be folded. You can just bring them one when you need them and store them away once the event is done.

Adjustable height:

We've already mentioned this earlier and it is very convenient. You can have a bar with different heights depending on your preference. This will make your bar counter more versatile.

Covers:

It's not a feature, but an additional item included when you're buying a bar counter table. They are designed to cover up the entire bar or counter. This is going to be handy when you're hosting an event in your home or office.
Simple Bar Table Design Ideas
Since you're buying a new bar counter, it's best to know the things that you can do to make it more alluring. We've listed down a few design ideas to help you figure out how you can bring out the beauty of your bar counter table.
1. Wall-Mounted Cabinets
If you are buying a bar counter, it's very important to have something on the wall. Well, most of these counters are placed perpendicular to the walls so you need to add some wall-mounted cabinets so you can put other designs that you don't want to place on top of the counter.
This is a better choice than putting so many things on top. You don't want a lot of decorations on your tabletop so just place them all on the wall-mounted cabinets.
2. Proper Lighting
Downlights would be a good choice when you have an adjustable height bar table. Since the lights can be adjusted as well, you can conveniently bring them up or down depending on your preference. Remember that you don't need a light that is too bright for the area. You only need lighting that would focus on the tabletop. You already have lighting in your kitchen so adding more can be a bit redundant.
3. Fruits and Greens
If you don't want your bar to have too many decorations, you can just put a basket or tray of fruits on the side. Just make sure that they won't hinder anyone from doing their thing on top of the table. Instead of putting them in the center, you can place them under the wall-mounted cabinets on the side.
If you don't want fruits, adding a small shrub or plant will do. You don't need to overdo it. A flower vase is too big for a normal-sized bar counter so it's not a good choice.
4. Display your Wines and Alcohol
Make sure that the wines and alcohol are displayed on your bar counter table. You can place it below the tabletop or you can create storage space at the top of the bar. Also, you can place your wines and alcohol in the wall-mounted cabinets at the side. Instead of putting other decorations, you can simply place all your wines and alcohol there.
Final Thoughts
Choosing a bar table can be a bit difficult if you don't have any idea what to look for. You might accidentally buy a table that would not fit in with your kitchen design or you might buy something that is not durable. It's better to do a bit of research before you decide because it would be a big waste of money if you made a mistake.
If you are looking for top-quality bar tables, chairs, and other accessories, we've got a wide range of items that you can choose from.