6 Ideas on How to Design a Perfectly Scaled Dining Room
Most people don't spend too much time designing their dining room. They leave a space for the dining area, and buy a good-looking rectangular dining table that fits the design of the space, and that's it. This is because most of you think that a dining table is only a place where the family eats. Everything would be removed once you're done and no one would really bother looking at the dining area unless they were going to eat.
If you want a perfectly scaled dining room, we've got a few simple tips on how you can create a unique atmosphere in your dining area and take it to the next level.
Designing your Dining Room
1. The Purpose of Your Rectangular Dining Table
Before you jump into more complicated design ideas, the first thing that you need to do is to figure out how you're going to use the dining area. Basically, it should be the white rectangular dining table as it's the most important element in the dining area.
If you're planning to use it as an exclusive place for you and your family, you might want to use a circular table instead of a rectangular one. It's more intimate as the space is not as big as a rectangular model. However, it is not a good choice if you are going to host other guests.
If the table will be usable for all your guests and relatives, a large rectangular table would be a great option. It would also cover the number of people that your table can accommodate. There are tables that can hold up to 10 or more people. For this concern, you will have to look at the space of your dining table to know how big it would be.
2. Choose the Right Flooring
Even if you're only using a small rectangular dining table, you can easily design your dining area by choosing the right flooring. You might still be sticking with the floors that you've inherited, but it's not a bad idea to start changing them. This is true if you want to make sure that your dining room will be very attractive and elegant.
Remember that a dining room floor should not only look good. It should work hard as well because this is a high-traffic space in the house, which means that a lot of people go to your dining area. When choosing flooring, there are three important things to consider:
Style and Design: You should always look for a style and design that would complement the rest of your house. The floor is connected to the living room and the kitchen so the flooring should always have a complementing design to the other floors. If you're using wood, make sure that the other floors are also using the same thing. You can also create contrast by choosing neutral colors instead of wood.

Durability: Since the dining area experiences a lot of traffic every day, the flooring should be as durable as possible. The rectangular dining table for 6 may also be a bit heavy so the floors should be heavy duty. Regular tiles will do or you can opt for hardwood as well.

Ease of Cleaning: Spills and splashes of food are inevitable so you need to make sure that the flooring is low maintenance and it can withstand the test of time. You don't want a type of flooring that would easily get damaged just because of food spills. Always choose a material that's very easy to clean and make sure that it doesn't stain as well.
3. Plan Your Lights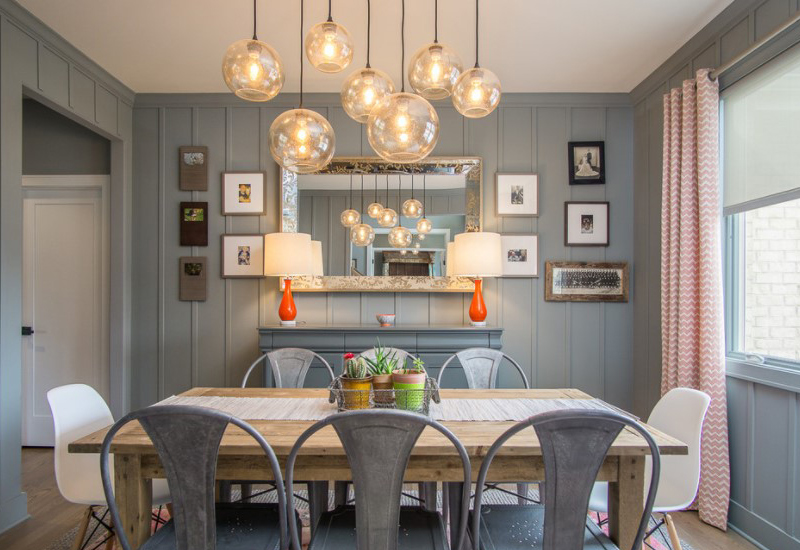 Most people would only put a single light on their dining area. It's not a problem if the space is small, but you don't want the dining place to be dim, especially if there are a lot of people eating together. This is the reason why you have to plan your lights very carefully and put them in the right places to illuminate the area.
You should add different light sources in your dining area. You can go with a chandelier or you can try a pendant light on top of your dining table. Make it clear that it is the focal point of the area. However, make sure that you still add some light to the edges. Place some lamps or sconces to provide even lighting to the whole area. Remember not to use strong downlights as they might create shadows. They will usually light up a single space instead of dispersing low light in the area.
You can go with dimmer switches if you usually work or do some practical tasks in the dining area.
4. Choosing the Right Color Scheme
Your dining area is also the same as your bedroom and living room. You have to make sure that you pick the right color combinations. Although you won't be adding too many decorations to your dining area, you need to pick the right colors to complement the whole area. Actually, it is more difficult because you only have a few pieces of decorations. If you make a mistake, you will have to replace it immediately as you can't hide it from the other pieces.
The color scheme of the room should be based on the type of feel that you want to create. What kind of ambiance do you want for your dining area? Do you want it to be dark and sumptuous, or would you rather have a bright and airy vibe? Take note that this decision will be based on how you use the dining area.
If you are using it during breakfast and lunch, you can stick with neutral colors or you can opt for blues and greens. There are so many hues that you can choose from so you can experiment from there. If the dining area is meant for entertaining guests, you can opt for a deep and richer color.
5. Using a Wallpaper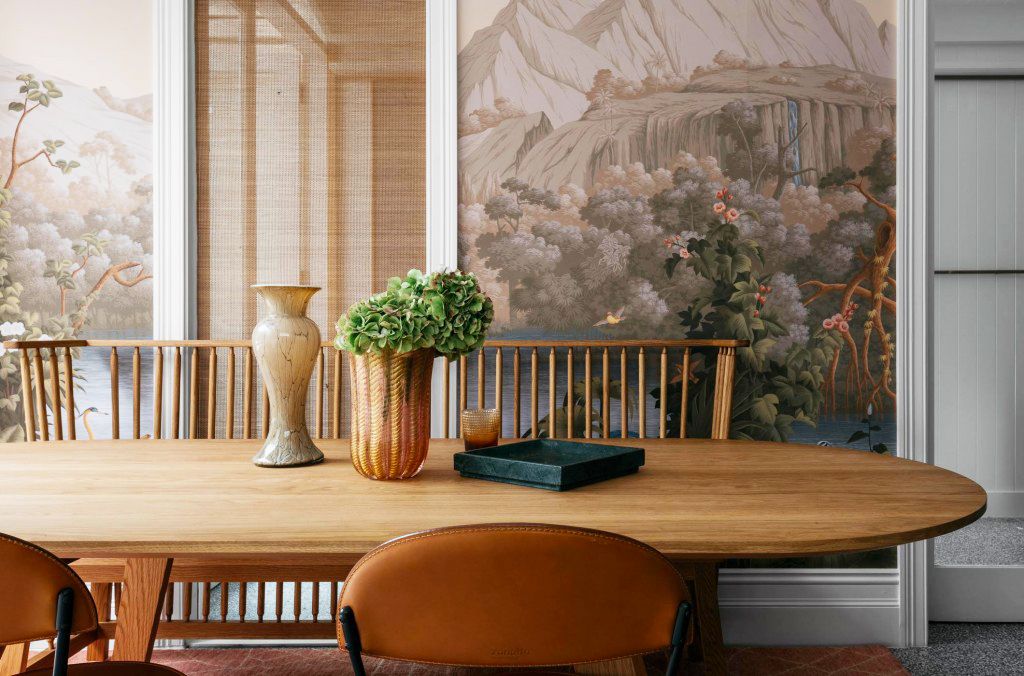 Paint is always the first choice when it comes to the dining area. Not a lot of people use wallpaper, especially if you are going to use something with design. This is because it's harder to design the area if you have to think about the style of the wallpaper. However, once you pull this off, you're in for a big surprise. So, how can you do this?
When choosing a wallpaper, don't choose designs that can be replicated using paint. It's better to use a beautifully bold wallpaper. You can choose a botanical design or you can opt for a geometric or abstract style. You don't have to fill up the whole area. You just need to place the wallpaper like an accent wall so it will turn into the perfect backdrop for special events in your house.
The added color would be very noticeable if you're using neutral colors for the other elements in your dining area.
6. Looking for the Best Rectangular Dining Table
Although a circular table is a good pick, having a rectangular table will be a better option. Whether you want to have an intimate time with your family or you want to have guests in your house, a rectangular table will do the trick. What are the things that you need to consider when looking for a table?
Size: You have to pay attention to the size of the table because you can't have something extremely big if your space is limited. Most tables come in sets of 4, 6, 8, and 10. You can also get other models that are much bigger than that. The first thing that you need to do is to check the space of your dining area and figure out the place where the table would be placed. This will be your guide in choosing the size.

Materials: When it comes to tables, wood is always the best option. It would look good in almost any type of setting so you won't have to worry about finding a design that would fit your interior. In terms of durability, it is also a better option compared with veneers. If you want a more affordable option, veneers are the best. They look like wood, but their durability is a bit lacking.

Durability: Always stick with durability when it comes to tables. You don't want it to suddenly collapse when there are a lot of people sitting and dining in it. Although wood is always a good choice, you have to pick the right model because there are cheap wooden tables that can get damaged easily. It's better to look for a table made from top-quality wood.
Conclusion
Designing a dining room is not as difficult as the other rooms in your house because there are only a few elements involved. You only need to consider the rectangular dining table, a few decorations, and the lighting. It means that you won't have to spend too much time picking a design. The only thing that you have to do is to look for a top-quality dining table since it is the focal point of the dining area.
If you are looking for high-quality dining tables, we've got a range of items that you can choose from.