10 Ideas for Your Home Bar
You always wanted a home bar, and now the time has come to add it to your house. Despite the excitement, you also worry about getting everything right. You aren't even sure where to start and could use some expert ideas.
This guide gathers trendy and timeless suggestions for designing a home bar. It discusses picking different elements, ranging from a contemporary bar table to beautiful stools. You'll also learn other tips on how to maximize functionality and style. Here are the guidelines to follow to design the home bar of your dreams!
How to Design the Best Home Bar
Before discussing the major elements of a home bar, establish the desired type. You can pick between two different categories, including:
A dry bar. This home area accommodates your drinks, including the finest and common choices. It can have a seating area, including tables and stools. The bar often has compartments where you hold cocktail shakers and other items necessary to make drinks.

A wet bar. The difference with the former is in a single crucial component. A wet bar includes running water. That means a sink and a drain are a part of the setup. It's convenient for rinsing shakers and cleaning up, but the installation is more complex.
Once you pick the type, focus on the desired home bar size. You can set aside an entire room and replicate a commercial facility. Alternatively, you can select a corner and put a bar there. You'll need a place to store drinks and seating space. Whether you go with a retro bar table or a modern unit, make sure it fits the rest of the décor.
1. Choose How Much Space You Need for Beverages
Most people already have a collection of fine drinks. You'll keep some beverages in the bar for special occasions and showing off. Other drink types include ones you'll consume often. For example, if you are a wine lover, some are suitable to store at room temperature. But some types, as well as beer and other drinks, require a fridge.
The usual concept includes having a fridge and a cabinet for your drinks. That way, you'll secure the ideal temperature for each. And you can pick a special shelf to display your nicest bottles. Based on the estimated size of your drink storage space, you'll know how big the bar elements need to be.
2. Your Home Bar Could Be Portable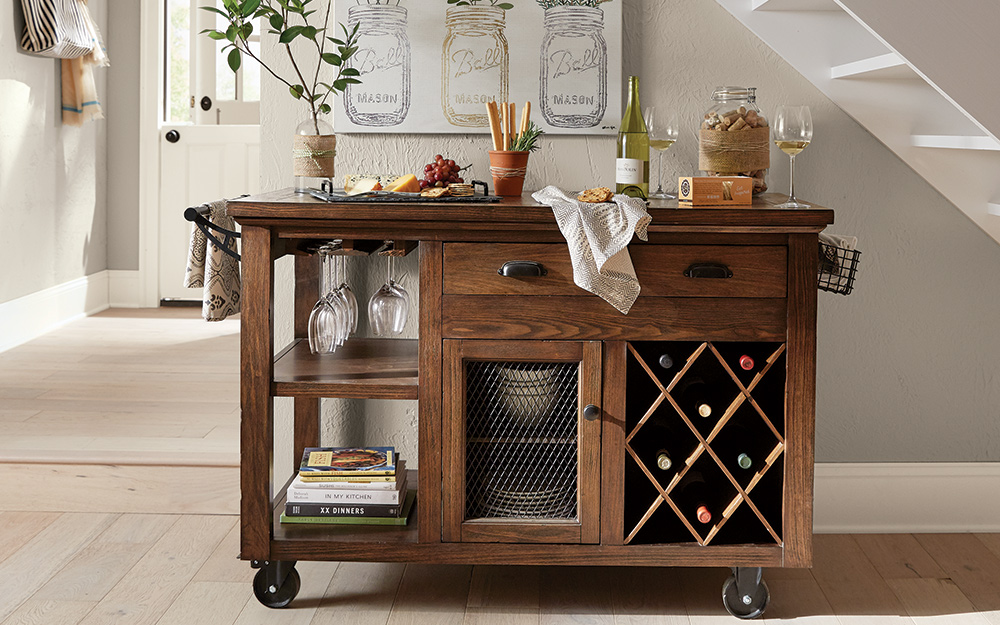 You can go with the classic stationary bar. But the modern alternative is to have a portable option. That includes movable components, such as the following:
A bar cart. The essential piece and the place to keep your drinks. You can pull out the beverages you plan to use that day and roll the cart to the desired area.

Table and stools. The seating elements could also be portable. You could get a retro 3 piece chrome bar stools and table set. These units are light and portable.
The fantastic thing about portable bars is you can take them outdoors. You could keep the cart in the garage or the covered area, along with the tables. Once the weather allows, gather your friends and set the bar outside. You'll have a spot to hang out and enjoy drinks in no time!
3. Pick a Memorable Finish or Other Detail
A home bar is a convenient place to enjoy drinks and hang out with the crowd. It's also a chance for the host to show off. So, how about finding a retro rectangular bar table that stands out from the crowd? You can pick bold and unique colors or create a contrast with the wall. A top surface with an original pattern can be a memorable finish.
Another material that stands out is glass. You can add it to the cabinet doors. Don't hesitate to pick a textured glass. It'll keep the bottles on display while securing an intriguing design. And if budget isn't an issue, consider a natural industrial pub table made of stone. It's pricier but durable and unique.
4. Use the Angles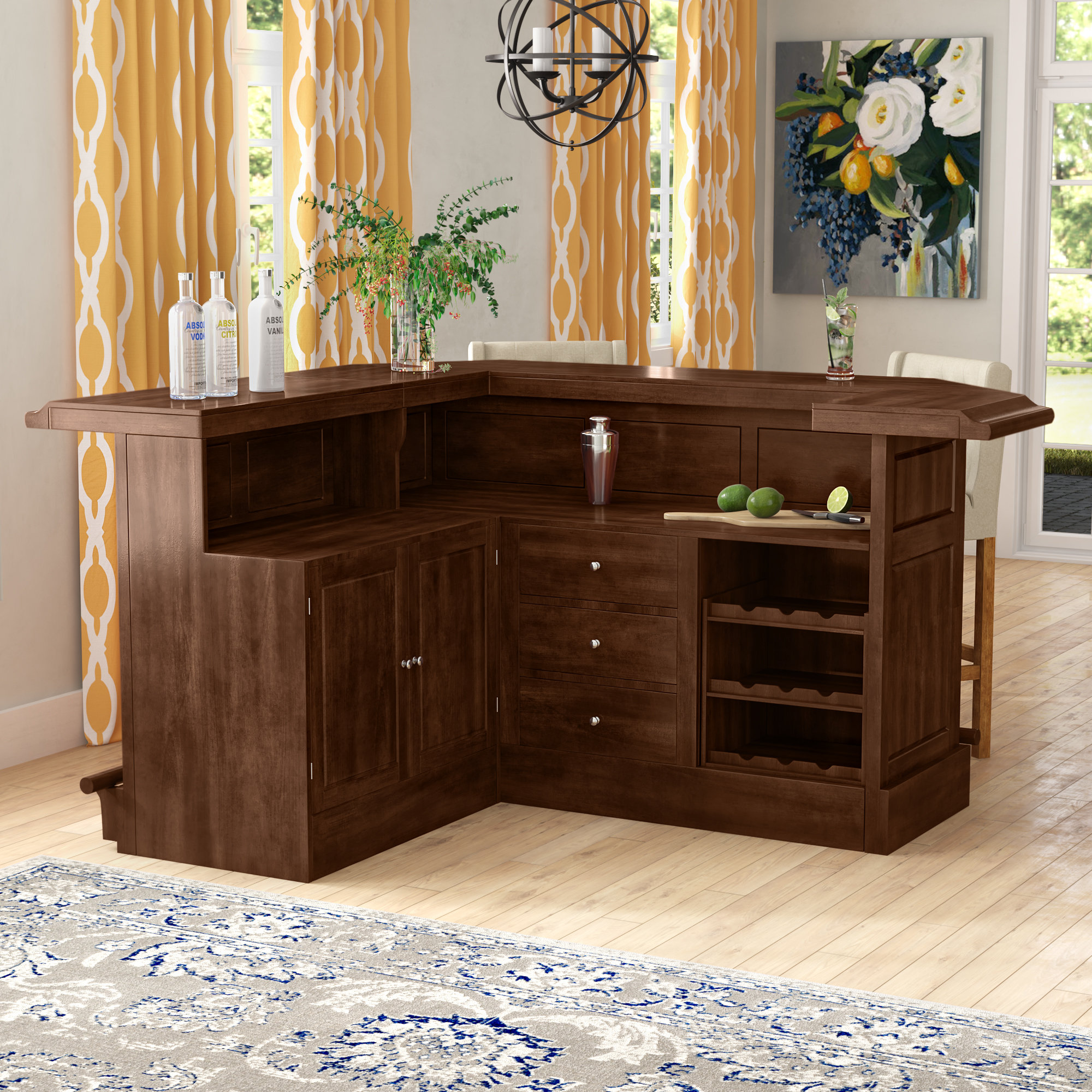 The best design ideas focus on uniqueness, so forget about the classic retro rectangular bar table. Instead, go with units that offer an intriguing shape and utilize the angles. For example, how about placing an L-shaped bar? It's better than a straight rectangular table.
And if you feel that's not enough, find a unit with two 45-degree angles. It will seem like half of a hexagon or beehive shape. You can position it in the corner, but make sure to secure room to access the inner section on one side. The angles might not serve as a space-saver. Their idea was to create an unusual bar that stood out from the crowd.
5. Create a Sign Out of Wine Corks
Are you a passionate wine drinker? Perhaps you enjoy drinking beer for the bottles. It will take a while, but consider saving up the corks. Use them to form a special sign and hang it on the wall. To accelerate the process, you can buy corks or bottle caps in bulk.
The sign can read anything you want. It could spell "BAR" or "WELCOME," or you can get creative. And you don't have to stop there. How about hanging some cables to spice up the bar? You can even add a TV close to your contemporary bar table. It could be a unique way of enjoying your favorite team's games!
6. Add a Chalkboard or Paint Wall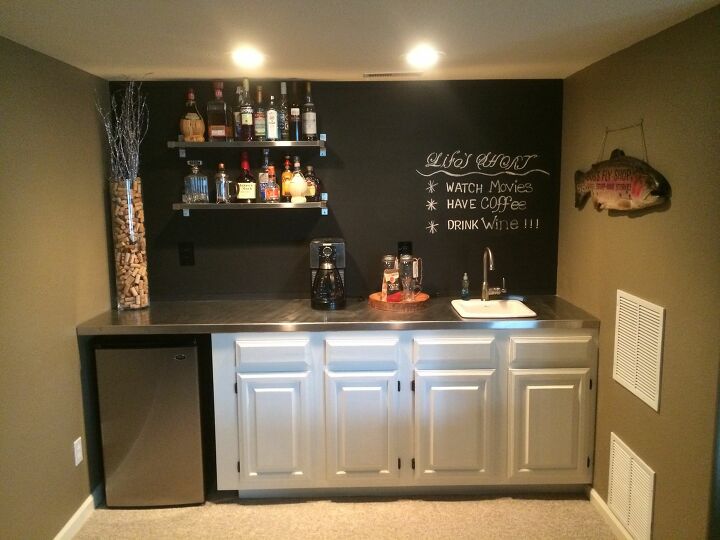 It's your home bar, so don't hesitate to add a personal touch. It's nice to hang a poster of your favorite band or artwork piece. But if you want the feeling of a true bar, a chalkboard is an ideal option. You can hang it on the wall and list daily specials. Welcome guests with a special message or write motivational and funny quotes.
It's possible to paint an entire wall with chalkboard paint. It spices up creativity and even secures the room for guests to leave messages. It can be a unique guestbook for your bar visitors.
7. Insert a Mirror to Make a Small Bar Bigger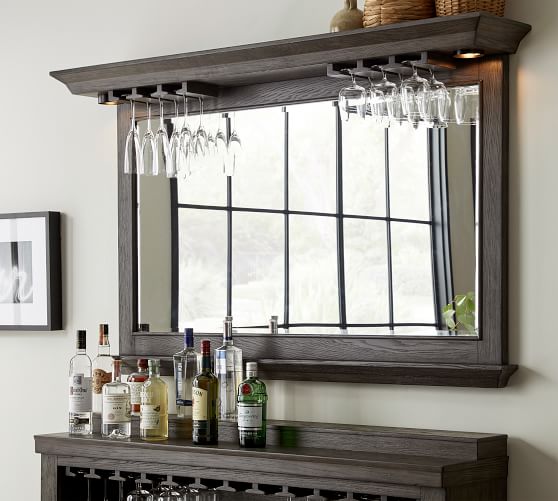 If limited space is available for your bar, it's necessary to resort to tricks. And the best visual tip to expand any area is to add a mirror. Pick the classic retro bar stool and table and add a cabinet with drinks on the other side. But between two storage compartments, place a big mirror. 
While sitting in the bar, you'll see your reflection and the rest of the room. Even if you are in a small corner, the area would seem bigger. The only consideration is that the reflection should show an attractive and suitable background. You don't want to look at a baby crib or anything similar while sitting in a bar.
8. Resemble the Design of Your Favorite Bar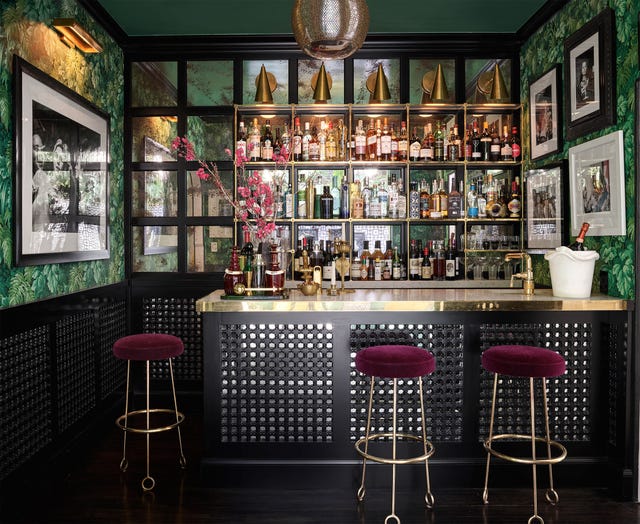 Do you have a favorite place to head out with your friends? Perhaps you went on a vacation and saw a pub with an amazing interior. How about replicating that design? If it's good enough for a bar, it's great for your home.
It's not necessary to be the same size but look for similar items and colors. If there's a specific pattern on the wall or another focal point, don't miss copying it. Capture the design's essence, and small differences won't matter. And don't forget – nothing should stop you from making your bar unique. So, adding a few signs and personal touches is essential.
9. An Ice Machine Is Always a Great Addition
A fridge is a mandatory item for any bar. It keeps drinks cool, which is necessary. But it's always nice to add some ice, especially during summertime. For this option, it doesn't matter if you picked a wet or dry bar. 
Having an ice maker is a convenient addition anyone will appreciate. And it's worth noting it's necessary if you make cocktails. Most recipes include ice, and having a machine is better than heading back and forth to the freezer!
10. Combine Different Lighting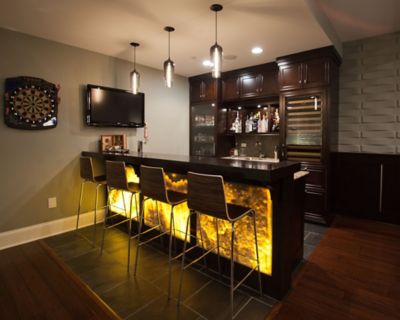 The common option in home bars includes pendant lighting. You place it to hang from the ceiling and follow the entire line of the top surface. Each stool could get its own pendant light. But if you want a similar atmosphere to a bar, stick to low illumination.
While strong lighting isn't characteristic of pubs, you still need to see what you are serving. So, adding recessed lighting in the area where you prepare the drinks is wise. The alternative would be bulbs below the cabinet.
Final Thoughts
Endless options are available when designing a home bar. The experts suggest taking things slowly and matching items with your expectations. And make sure to stick to a similar style. You can pick a classic design and go for a traditional compact-sized bar stool. If you have more space available, consider larger and more comfortable chairs.
A contemporary bar table is a wise choice for modern design fans. Pick the right shape and dimensions to ensure enough room to accommodate the desired party size. It's easiest to pick items from online stores. They offer dozens of pieces from different collections. It ensures you find the preferred units and get all the items to assemble your home bar delivered to your doorstep.