10 Things to Know About a Bar Table
You might enjoy hitting the clubs and drinking cocktails. Perhaps you prefer casual nights out with your friends. Regardless of your preference, you've surely encountered a round bar table. 
These furniture pieces have expanded their popularity from commercial coffeehouses to residential premises. If you think of adding them to your home, check out this detailed bar table guide. It reveals all the details about these items and debunk myths to ensure you have the right information. Here are the critical facts about bar tables!
1. What Is a Bar Table?
Bar tables are special types of these furniture pieces designed to be at a specific height. Some also call it pub or countertop tables. While there are subtle differences, the critical thing to remember is the height difference.
The most common bar tables are approximately 40 inches tall. Their initial use was in coffee shops, restaurants, and similar facilities. The idea to increase table height was to make things more convenient for the bartender. The experience showed taller tables also boost socialization. You can sit and talk with the guests around you.
 2. You Can Stand or Sit at a Bar Table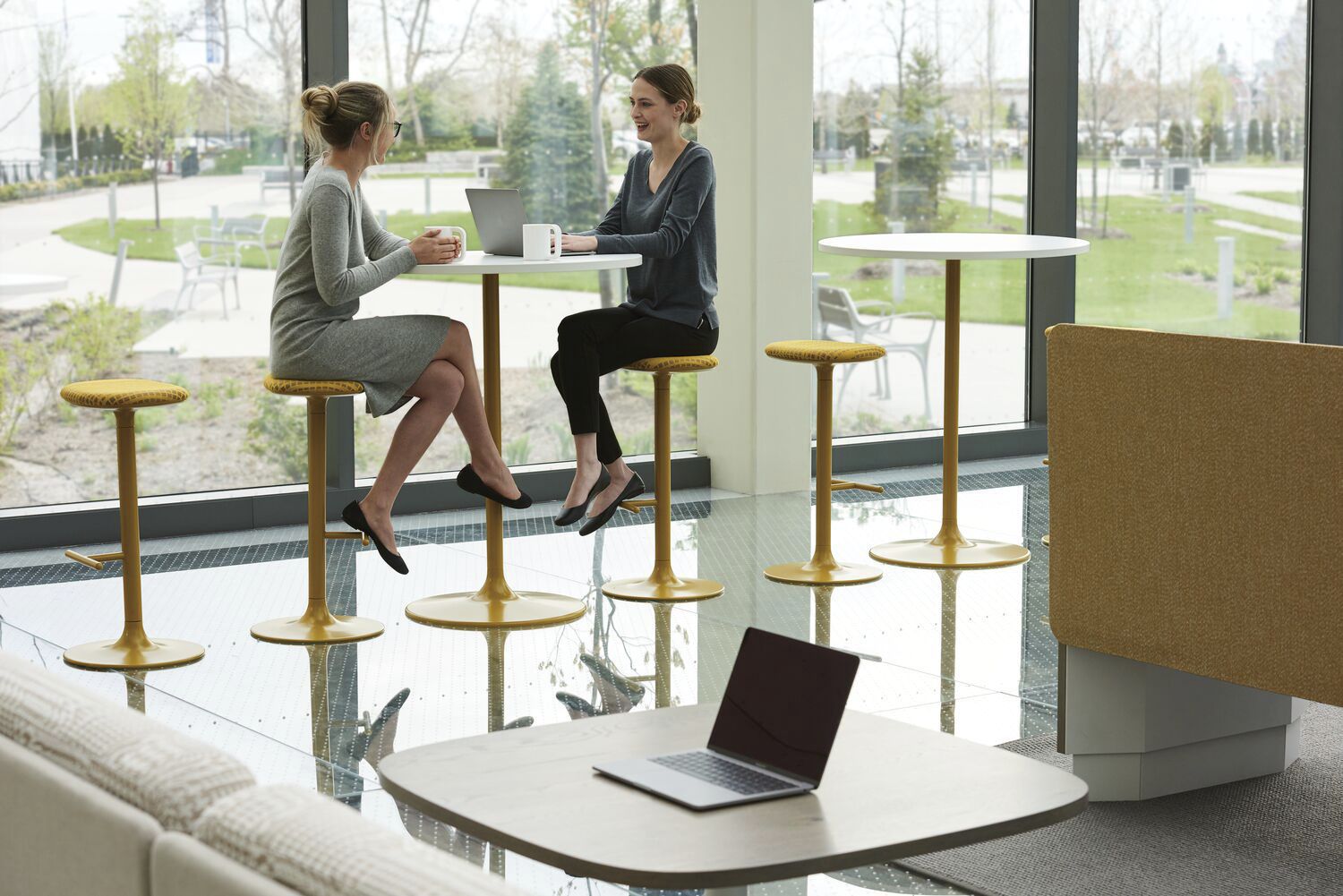 If you go to a club, you often stand around a round bar table. It's a space-saving combination that allows more people to be in a single unit. But in residential homes, this is not a common occurrence. You can use this setup for garages, entryway pub tables, and other compact locations.
The alternative is to get a round bar height table and chairs. Many manufacturers make matching sets to make the selection easier. You could keep the price lower by purchasing an entire collection. But if you feel creative or prefer choosing for yourself, don't hesitate to buy the items separately. It allows the mixing of different colors and materials for the table and chairs.
 3. A Round Bar Table Isn't the Only Shape
If you mention a pub table, most people associate it with round units in bars. It's the most popular shape for its convenience. It can fit most people in a bar, especially if they are standing. The round form is perfect for compact areas. It won't attract attention and overwhelm the room. Moreover, it's common for it to have only one leg. That minimizes the footprint.
Apart from a round bar height table, you can try these shapes:
Square. It's a frequent option for dining table replacements. Squared units can accommodate four persons, and each will have the same space available. Alternatively, you can save room by putting it in the corner.

Rectangular. The advantage of his shape is its suitability for narrow and elongated spaces. Rectangular bar tables can go above sofas or next to walls. They follow other items and fit the décor seamlessly.

Unique designs. Manufacturers often get creative with bar table appearances. Oval and triangle designs have become a standard. The market offers unusual and irregular shapes. These tables are perfect as focal points.
4. Material Quality Can Vary
The rule that applies to most products is also valid for a bar height round table. These furniture pieces feature different materials, and that affects quality.
Here's an overview of the compounds the manufacturers use:
Aluminum. It's the most common metal used for bar table frames. Aluminum is durable and light, ensuring high portability. Paints and finishes will depend on the table. Apart from the frame, you might see aluminum on top surfaces. It's an entry-range and inexpensive option suitable for the outdoors.

Other metals. Cast iron is pricey but incredibly stable and durable. Zinc and other metals could also serve as frames and top surfaces. They contribute to feeling like you are in a pub. These compounds are easy to clean.

Solid wood. It's the highest-quality material, often used only for top surfaces. Common choices include pine, beech, oak, etc. They add to the elegance, making them ideal for dining rooms. Solid wood fits modern and traditional designs. Apart from its natural look, solid wood features incredible strength. However, it's not resistant to water or heat, so maintenance is demanding.

MDF. Here's another affordable material with a beautiful appearance. It's durable, simple to maintain, and available in different shades. The problem is that it's vulnerable to scratches and heat.

Laminate wood. Manufacturers use resin to keep together a string of synthetic compounds and melamine chipboards. While they aren't as durable as MDF, laminate materials are simple to maintain.

Stone. It's rare to find tables made of stone. They are expensive but original. The material will last for decades, and it's resistant to heat.
 5. Bar Tables Are a Casual Dining Option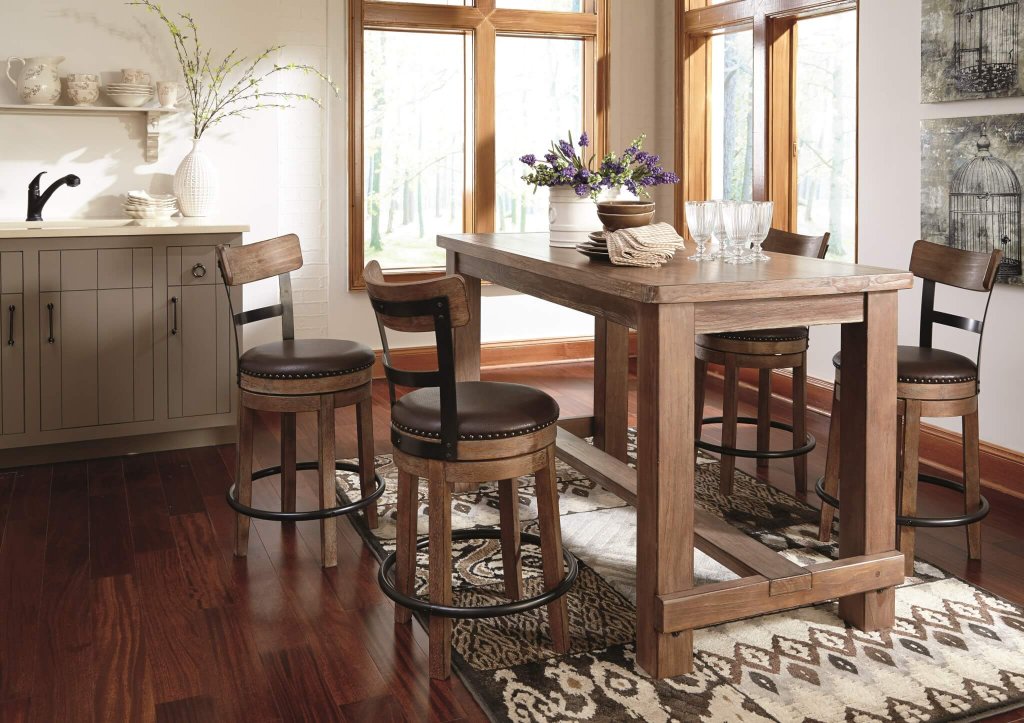 Do you find yourself having meals in a hurry often? If yes, you might be tired of setting up the dining table and clearing it once you finish. A bar table is an ideal replacement for casual meals. It's enough to grab a tray and eat while sitting on a comfortable stool. 
Bar tables are ideal for times when you are in a rush. You can make it more formal and use it as a primary dining option. Industrial pub tables with a unique design ensure a more elegant appearance.
And even if you have a formal dining table, there's still room for a bar height unit. You can use the former for Sunday lunch or when hosting friends. And when you eat by yourself, a bar height dining table round or another shape can be your preference. You can even place it as the kitchen nook, especially in compact apartments.
 6. You Can Adjust the Height, But Not the Size
Some bar tables come with multiple height settings. These include extension poles or another method to change the altitude. The usual height is approximately 40 inches. Please note that you won't be able to lower it much. Getting it down or up by several inches should be the max option, although extension poles could increase maneuvering room.
But while you can adjust the height, there's no option to change the size. Make sure to choose a suitable bar height round table and chairs for the desired location. It's best to see how much space you have available. Don't forget about the importance of unobstructed foot traffic. Once you have the dimensions, you'll know which tables should be your focus.
 7. Some Bar Tables Come with Storage Compartments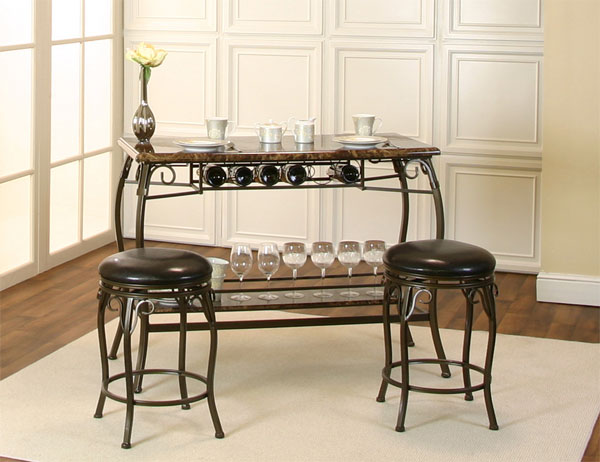 You'll notice some models offer storage room for additional functionality. These usually feature a square or rectangular shape. It's hard to place a drawer or storage compartment on a round table.
Depending on the model, it could have single or multiple sections to put away stuff. The usual concept is to secure only a drawer or two. Some manufacturers sell storage compartments as separate accessories. You can order them to match the table and put them underneath it. It's convenient since you can remove the storage to get extra foot space when necessary.
 8. Bar Tables Fit any Décor
Are you envisioning a beautiful home with traditional décor? Perhaps you are redecorating and making a modern room? Either way, a bar table would be an excellent fit. You have a vast range of materials, colors, and finishes. It allows the table to be the room's focal point but is also a convenient seating addition.
If you stick with classic decors, choose the natural wooden finish. It'll give a simple but elegant look. But if you want a modern table, white and black paint are excellent options. They are easy to combine with other items and secure that contemporary touch.
 9. Bar Tables Are Ideal for Any Room
The article covered dining options, but you can put a bar table anywhere. Did you make a game room with a billiard table? Are you building a man cave to gather the crew to watch sports? Pub tables are the perfect addition. It's convenient for storing your drinks and ensures generous seating options.
You can put bar tables in your home office. These can double as working spaces. Focus on units big enough to place your laptop. A storage compartment could be beneficial for documents. Alternatively,  put a compact rectangular bar table in the entryway. You can put the keys as soon as you come in. It ensures you never forget an essential item or chase it around the house.
10. It's the Perfect Outdoor Companion
Having people over for a barbecue party goes perfect with a bar table. You can add multiple units to your backyard and be ready to host a large crowd quickly. 
Alternatively, a bar table could be a relaxing area on your patio. You can create a secluded and romantic atmosphere with a stunning view of your yard. But don't forget to assess the weather factors. If the table is water and heat-resistant, you can put it anywhere. But if it doesn't react well to extreme weather conditions, store it away when you finish using it.
Final Thoughts
Have you decided to add a round bar table to your home? It can be the perfect addition to living and dining rooms, basements, or outdoor areas. However, it's vital to pick a suitable style. You can check for new arrivals to follow the latest trends when picking furniture. It'll ensure you get stylish additions and boost your décor. And since you are ordering online, you'll get the items delivered to your house. There's no transport hassle, so don't hesitate to pick your favorite table and order today!