8 Designer Coffee Table Decorating Ideas
Your coffee table is one of the most noticeable pieces of furniture in your living room. It's in the middle so it is very easy to notice the things that are placed on top and its overall design. Whether you're using a rectangular coffee table or any shape, you need to know how to properly decorate it.
Putting expensive things on top won't make it look good, so you should figure out how the table can blend perfectly with the other furniture in your living room. We'll help you find a design that would be suitable for the current appearance of your living room.
Decorating Ideas for your Coffee Table
1. Always Maintain Balance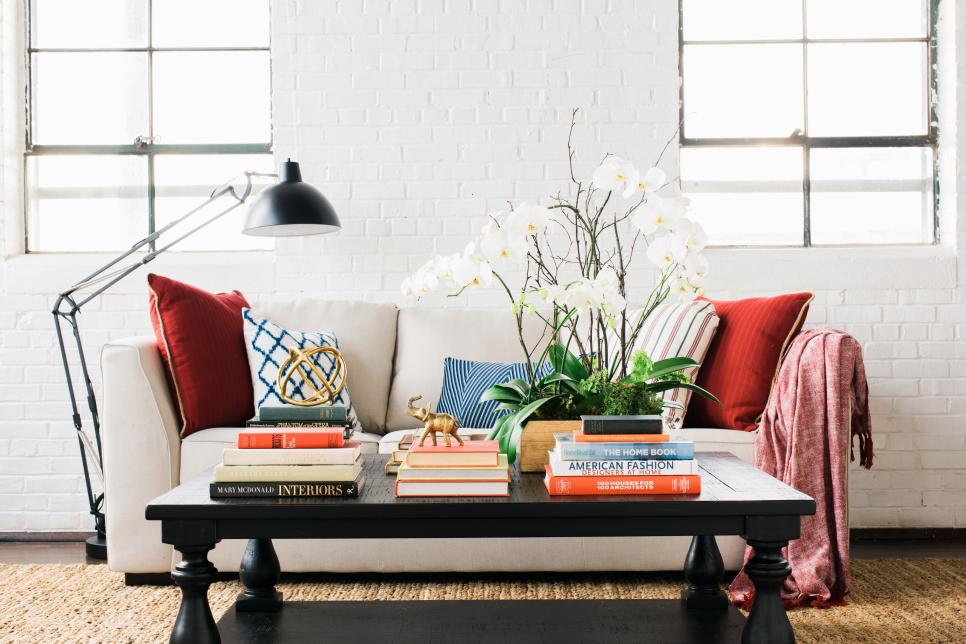 When you're putting things on top of your cocktail table, you should always maintain balance. You can't simply put whatever you want without looking at their sizes. If you put books on top of the table, make sure that you add other small items so they won't look too heavy.
You can group like objects and stack them together. Although you can put a lot of things on your cocktail table, it can easily turn into clutter if you don't know how to position them properly. If you put books, make sure that the largest book is placed at the bottom and the smallest at the top. You can also put a centerpiece if you want and put it in the middle.
2. Season Swap-Outs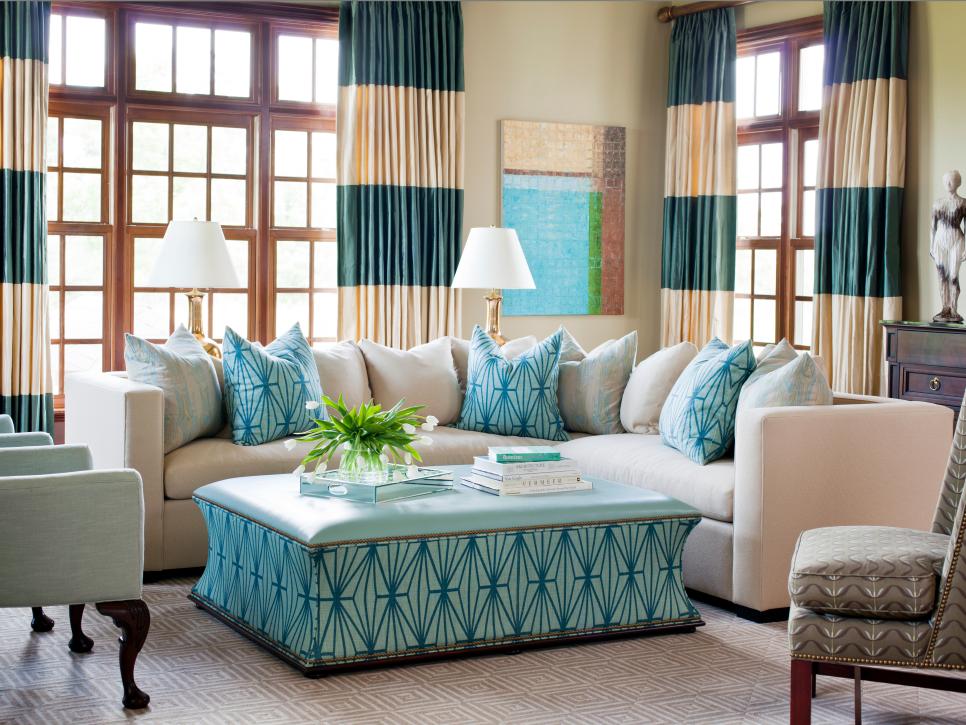 This is probably one of the best ideas that you can consider when designing your mirror top coffee table. Doing a seasonal swap-out can guarantee that your table will always have a fresh design that fits perfectly in the type of season that you have.
If it's summer, you can add some designs that would remind you about summer. You can use objects that would tell you that it's summer. Placing a sea conch at the table will tell you that it's summer since it came from the beach.
If it's the fall season, you can put in a dry leaf at the top. It doesn't have to be from the backyard. You can buy plastic leaves to use as a design on the table.
3. Varied Height and Scale
One of the most important design tips for your coffee table is to create a varying height and scale for the designs on top. Remember that if all the items on the table were at the same eye level, nothing would stand out. They would all look the same and the design would be boring.
The best thing to do is to look for things with different heights and scales. You can put the tallest piece in the middle and the rest would be placed on the sides.
4. Create a Grid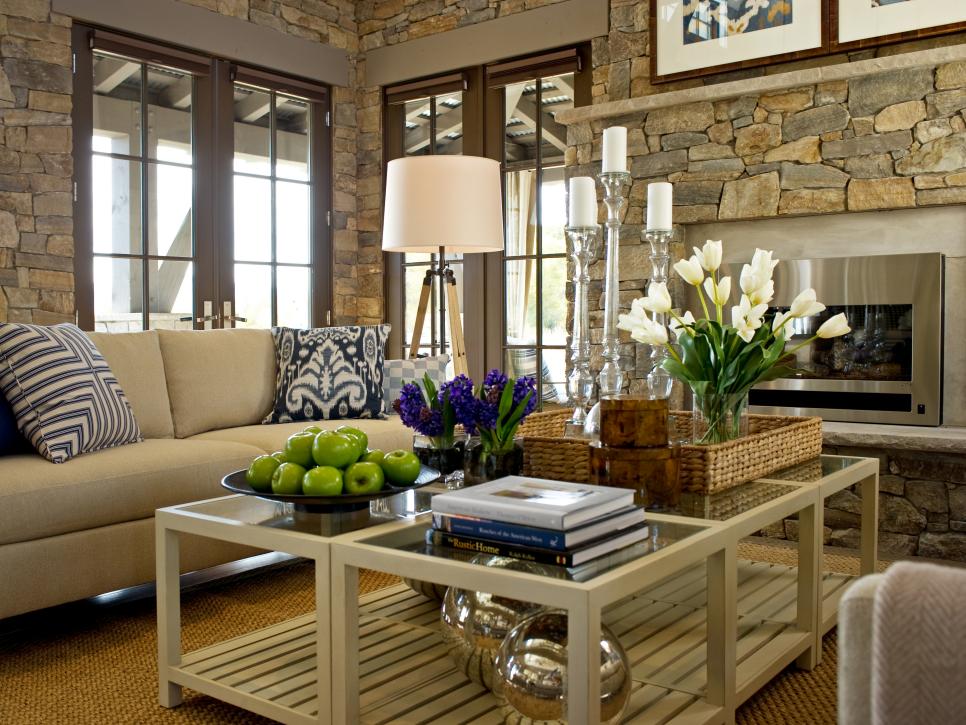 Whether you have a small or a large indoor coffee table, forming a grid can be a good way to add a bit of sophistication to it. By creating a grid, you can create different designs on your table. You can divide your table into two, three, or four sections depending on your preference. You can put something on every section while making sure that you are not going over the other sections and taking their space.
Doing this will allow you to figure out what items would look good on your table. Do you have to place it in the middle? On the right side? Or should it be placed on the left side of the table? This will be an easier way to find a design that would fit your living room.
5. Contrasting Colors
Creating contrast on your coffee table can bring a whole new flavor to your living room. You can start by choosing white or neutral colors for the cocktail table. This would allow you to choose bolder colors to pair with the table. Well, not a lot of people use colorful tables in their living room, so it would not be too hard to find decorations that would fit well in terms of color.
If you are going to use black or dark wood, you can add a metallic element on top of the table. You can also put a white décor to bring more contrast to it. As for the clear table, you can go with any color you want since it is extremely versatile.
6. Decorate One Side of the Table
For people who are using their cocktail table for many things like work, playing, or doing some of their chores, it's not advisable to put a lot of decorations on top. Well, it's not a good idea to just leave it plain and bland as well.
The best thing that you can do is to choose a side and place the decorations there. You don't need to worry because it won't look awkward, especially if you have your things placed on the other side. This will show that one side of the table is meant for working and the other side is only a design.
7. You'll Never Go Wrong with Plants
Yes, plants will always have a special place on cocktail tables and it is one of the simplest options that you can consider. You can just get a plant in a good-looking pot and place it in the middle of the table. You don't need to get something big as it might hinder the vision of the people sitting in your living room, especially if you have a television in front.
You can go with small plants or shrubs. Just a single plant will do and don't put too many shrubs as it won't look good.
8. Try Using a Tray
Using a tray is like putting different decorations in a single entity. Even if you have so many decorations placed on the table, as long as it's inside a tray, it will only be considered a single entity. You have so many decors, but all of them will work harmoniously with each other thanks to the tray.
You just have to pick a good-looking tray that would complement the design of your mirror-top coffee table and you're good to go.
Reasons to Decorate Your Coffee Table
Most people won't really care about their cocktail tables. Actually, some homeowners are not using tables in their living rooms. They just keep the middle of the living room empty so the kids and other guests can move around easily. This might be a good idea, but your cocktail table can offer a wide range of benefits that will surely change your mind. Here are some of them:
1. It's Made for Practical Purposes
A cocktail table is just like a normal table, but it's smaller and more practical to use in smaller areas. It is more practical to have one because your guest can put their food on the table. They won't have to hold it for as long as they are inside your house. They can just place it on your cocktail table and do what they have to do.
You can also put important things on top of the table. If you have guests, you can place magazines, board games, and other things to entertain them. The table can also hold multiple storage. If you have things that you need in the living room and you don't have a place to store them, cocktail tables usually have storage underneath.
2. Express your Creativity
While it's true that there are other more important elements in the living room to express your aesthetics and creativity to your guests, their vision will always stay on your cocktail table. Once they enter the living room, they will notice so many things immediately, but once they sit on your couch, the cocktail table will get all their attention.
This is the reason why many people spend so much time finding a good decoration for their living room table. They always make sure that it will complement the other furniture in the living room.
3. Complement your Seating
When you sit in the living room, is it always about watching television? Sometimes, you just want to relax and have a cup of coffee while sitting in your living room. When you're sipping coffee, where do you place it if you don't have a table?
It is more comfortable in the living room so most people do their work while sitting on their sofa. Where will you place your laptop and other things if you don't have a cocktail table?
A coffee table will perfectly complement your sofa as it offers a wide range of uses that will bring you more comfort.
Final Thoughts
Designing a coffee table doesn't have to be too extravagant. Sometimes, the simplest designs can already bring a lasting impact on your guests when they see them. What you need to do is to look for top-quality tables that would complement the other elements in your living room. Designing a cocktail table is much easier if the table itself is already elegant.
If you're looking for high-quality tables for your living room, we've got a wide range of items that you can check out.