9 Reasons Why You Should Get a Round Dining Table
A dining table is a foundational item in your décor. It's not only an aesthetic piece, but an item with huge functionality. You use it to consume meals and enjoy lunches with families and friends. The table will serve you on a daily basis, so there's no room for error. So, how to pick the perfect option?
Experts say a round dining table could be the heart of every house's décor. This guide tries to determine why this shape is so popular. If you are having second thoughts about this design, read about its major benefits below. Here's how a single dining item can make the entire home a better place to be!
Why You Should Get a Round Dining Table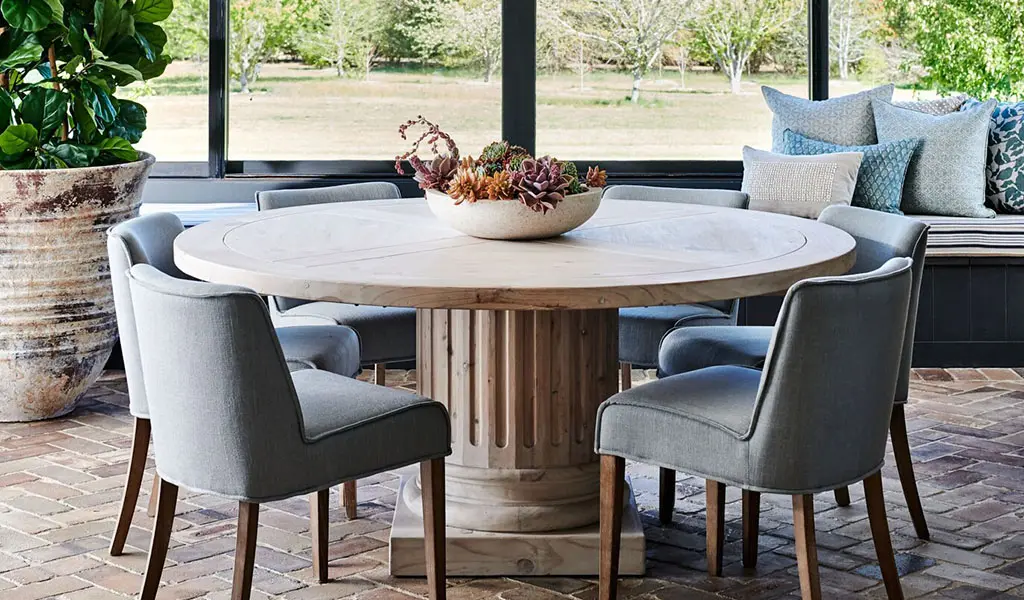 Before getting into a detailed discussion about round dining tables, let's discuss different shapes. The following options are available:
Square. These are classic dining tables suitable for small and large groups. However, a bigger unit than necessary could make the setting seem cold.

Rectangular. It gives more room to choose the exact dimensions. The rectangular design could be narrow and long or close to a square. That increases the versatility of putting in different locations.

Oval, triangle, and other. These are unusual designs that stand out from the crowd. While they can boost the décor, their functionality often fails to be at an adequate level.
So, why would a round dining table set be better than any of the shapes above? Let's check out the main design's benefits and reasons to add it to your home!
1. It Boosts the Overall Flow of Space
For a homeowner, each part of the house is important. But the critical sections to get right include living and dining rooms. The flow of space is imperative since you want each item to look like it naturally fits in that location. 
Open-concept designs merge a dining area with the living room. It implies you'll see the entire space and walk through it frequently. Optimal flow is vital, and that's what you achieve with a round table. This shape will ensure the area doesn't seem that crowded. Furthermore, the table comes with a small footprint. It doesn't take up unnecessary floor space, contributing to overall flow.
A round shape interacts with other fixtures well. It contributes to creating a whole with the surrounding elements. Therefore, it's an excellent choice for a focal point of the dining area.
2. Round Tables Fit Any Style
Homeowners can choose from various materials and finishes. The selection is so vast, there's no doubt you'll find a model that fits your preference. For example, would you like a round glass dining table that boasts luxury? It can provide an elegant area for having meals, especially when guests come over.
You might prefer a more traditional appearance. Tables made of solid wood are a durable option to withstand hard everyday use. From leaning when doing the homework with your kids to playing games, this material can endure a lot. And the natural wooden finish guarantees a fine with classic decors.
3. A Round Table Accommodates any Number of Guests
Imagine a square table that can accommodate four people, but there are three of you. A single person would end up staring at the wall and not feeling pleasant. Square and rectangular designs focus on an even number of guests. But that's not the case with a round modern dining table. Whether it's three or four of you, everyone would feel like equal members of the crowd.
And what happens if an unexpected guest drops in and needs an extra seat? Your only job is to secure a chair. At a round table, room for four easily turns into a setting for five. And you won't feel the overcrowding like you would at square tables. In those designs, you'd need to put that person on a specific side. That would lead to both people in that section feeling uncomfortable.
4. Round

 Tables Boost the Social Aspect
You are sitting at a beautiful rustic dining table enjoying a beautiful meal. Everything is perfect, ranging from the food to the décor. But the table's rectangular shape doesn't encourage social interaction. It's easy to see why – you can strike up a conversation only with those closest to you. It's hard to hear those who are on the opposite side, let alone enter a discussion.
At round tables, nobody feels left out, and it's much easier to talk to others. The setting creates a more intimate atmosphere. Everyone seems closer, and you can communicate with all parties. It helps that there's no feeling like someone has a "head seat." Each guest has equal treatment, regardless of how many people are at the table.
5. It's Imperative for Households with Kids or Seniors
Has it ever happened to walk by a table and hit its corner? It could be a small side unit next to the sofa. Even if it didn't hurt, you might have knocked it over. And if it was a bigger rectangular table, hitting yourself against the age could leave a mark.
Sharp corners are even more dangerous for children. Their small height means they can hit their head on the edge you bumped into with your hand. And that's a serious injury risk that's best to avoid. And what better way to do so than getting a round table? That shape is safer for kids since there are no sharp edges.
Seniors could also benefit from round tables. Some aged people don't have maximum stability. And if they stagger, they could end up hitting the sharp edge. Round tables minimize injury risk in these situations, making them a wise investment.
6. The Perfect Companion to Small Spaces
Your first thought might be that the round shape takes more room than the square table form. But the truth is different for two reasons. The first is that round tables often come with a single leg. That equals a small footprint.
Another reason is there are no corners. It allows positioning the table closer to the wall. In most locations, it will be easy to put a round dining unit. And don't neglect that it's easier to tuck the chairs underneath the table. If you aren't using it, that'll help open up the area visually.
7. Equal Leg Space, but More Room for Everyone
A rectangular table usually comes with multiple legs. Those who sit close to the edges risk bumping into them. It compromises comfort and narrows their maneuvering space. Those guests might feel undermined for being put at the sides and having the table legs bothering them the entire time.
It's not something that can happen with round units. They have a single central leg, ensuring equal space on all sides. Each guest is on equal ground, and there's more foot room. The next time you have a big party at your farmhouse dining table, ask your visitors. They'll confirm they feel more comfortable with the round shape than with the alternatives.
8. It's Easier to Reach Shared Dishes
The host offered you that amazing salad and put it in the opposite corner of a rectangular table. You loved the dish and would appreciate a second serving. The plate is out of reach, so you need to ask others to pass it to you. Shy people might never even gather the courage to do so. Outgoing persons would have to stop multiple conversations to get the salad. Everyone would pay attention to you, which could be uncomfortable.
Round tables are much better for shared dishes. Most bowls would be in the central zone. It'll be easy to reach for them and get as many helpings of that salad you liked.
9. A Great Option for Other Activities
A dining table's primary purpose is to accommodate people while eating meals. But in modern homes, it's normal for each furniture piece to have multiple functions. It's not uncommon for children to use dining tables to do their homework. You can play board or card games with your friends and even handle some office work.
The round shape is great for various activities. If you enjoy board games, it secures easier accessibility to all pieces. Children will appreciate plenty of room to find an optimal position for any task.
Final Thoughts
Round tables seem like an ideal combo of functionality and appearance. They can spice up any décor while ensuring everyone feels comfortable and treated equally. That's vital when dining together, especially if you have important guests over.
The table's size depends on your requirements. You can get stylish compact models that accommodate up to four parties. A mixture of metal and manufactured wood is durable and fits modern decors. But don't hesitate to pick bigger units if necessary. A round dining table is suitable for small and large crowds. The only thing to ensure is that you have enough room. The general rule is you need three feet from the wall to the closest chair by the table. If you find the right item, confirm it fits the designated location. If yes, don't hesitate to place an order and secure your dining table today!