8 Design Ideas to Match Your Black Dining Table
A dining table is a pivotal piece of furniture. It can completely transform your home. With many decor styles becoming more modern, some shades of wood have become dated. One color that has become well-loved in the design community is black. Because of this, you may consider a black dining table. There are many ways to make a black dining table work well for your space. While you may think this would look too harsh, it can look edgy, modern, and chic. 
If you're considering a black dining room table, it's important to style it properly. Otherwise, it can look drab. Whether you're considering a metal dining table or a painted wood dining table, we can help you style this black statement piece. 
Design Ideas for Your Modern Black Dining Table
This article will discuss eight tips to make your black dining table set stand out in this article. Before that, we will give three reasons why we love black tables. This article is for you if you are considering a black table. 
Why We Love Black
There are many reasons why we love black dining tables. They are both functional and stylish. There are three primary reasons why you may consider a black dining room table:
Hides messes and imperfections. It's inevitable that your dining room table will get messy after a while. This is especially true if you have kids. Dining tables that are made of glass or with lighter finishes will quickly show messes. This can be an eyesore during dinner parties or hosting get-togethers. Black tables will nicely camouflage messes. Another thing to keep in mind is wear and tear over time. It can be expected that bumps and scratches may occur. A black finish will nicely hide these. 

Edgy and chic appearance. Where the light and bright trend was popular a few years ago, an edgier vibe has become more streamlined. Instead of focusing on different shades of whites and beiges, designers recommend using moodier colors. This adds more character and visual interest. A black dining table is the perfect way to do this! You will transform your space into a sleek, yet moody space that draws the attention of all of your guests. 

Variety. Dining tables are expensive. Because of this, you want something that will work well throughout the years. A black dining table will be flexible with different rugs, chairs, and decor pieces. As your style changes, you can transform your dining table to complement it. While trendy pieces, such as acrylic tables, will go out of style, a black table likely won't. 
Top Tips
Now that we've touched on three reasons black tables are a significant investment, we'll share our top tips for styling them! These gorgeous tables are a great addition to any home.
1. Choose Contrasting Chairs 
When you walk through a furniture store, you're likely to see dining sets. These include both the table and matching chairs. While these are nice, they don't necessarily offer the flexibility you may want. One of our favorite ideas is to choose contrasting chairs. 
Instead of choosing a dining set with matching chairs, select chairs that complement the set but still stand out. There are a few different ways to do this. 
One excellent option is to choose lighter chairs. This will contrast the black and help lighten the space up. You can play with different textures here. Consider purchasing a textured chair, such as wicker or rattan. This will bring that breezy feel to the edgy look. 
Another option is to add a pop of color! If you want a more eclectic appearance, choose vibrant chairs. Jewel tones such as emerald green and ruby red are popular right now. This will make your space look lively and bright. 
2. Opt for Statement Captain's Chairs
If you aren't ready to do the complete contrasting look, you can go to a smaller scale. With this, you can purchase the matching chairs for either side. However, on the ends of the table, buy statement Captain's chairs. These are two statement chairs that are different from the rest. They often have higher backs and sometimes arms. 
If you choose Captain's chairs, then you can use that as a pop of color. Play with texture, such as velvet. This will add depth to the space. Captain's chairs can also be more plush. This will offer a more comfortable chair to sit in. 
3. Add an Area Rug
An area rug is an excellent idea for any dining room. It will add texture, depth, and pull the space together. As a general rule, you want the rug to fit under the table and all of the chairs. When the chairs are pulled out from the table, they shouldn't fall off of the rug. It's better to have a rug that is too big rather than too small. 
Consider a patterned rug with lighter colors to add more interest to your space. This will help balance the area out and lighten up the table. We also recommend choosing a short pile rug. Because this rug will be in your dining room, having a rug that is easy to clean is essential. Expect messes! Opt for a rug that won't stain or be challenging to clean. 
It's best to have a rug that matches the room's shape. If you have a rectangular room, opt for a rectangular rug. 
4. Contrast With Light Placemats 
It's unrealistic to think everyone will have their table set up every day. However, leaving placemats on your table is a small task. However, it can make a huge impact. Not only do placemats help protect your table, but they add style! 
You can choose natural tones, greys, or anything else that will match your home. Contrast it with light placemats if you've opted for a black dining room table. If you have an area rug, don't choose a pattern that will clash. 
Choose placemats that are dishwasher-friendly or easy to clean. You should have a placemat per each chair at the table. 
5. Accent With Gold Decor
Black and gold is an iconic duo, and for good reason! If you want to make your table look more chic, accent it with gold decor. These accents can be small. The gold tones will make a large impact. Some of our favorite gold decor items are gold candle sticks. You can finish these off with white pillar candles. This will look chic and elegant. 
You may find placemats with fine gold detailing or opt for gold chinaware for fancy dinner parties. These small considerations will make the entire experience more opulent. 
6. Don't Underestimate Flowers
Don't underestimate the power of flowers! There is something so light and airy about a beautiful bouquet. If you have a black table, a white flower centerpiece is the perfect finishing piece. It will lighten up the space and bring nature inside. 
Bringing some flowers into your dining room is a great idea. Place it into a vase in the center of the table. It is a great way to brighten up the space and welcome guests! If you don't want just simple white, you can also opt for some greenery or a pop of color. 
7. Use Bright Light
Black can look drab if you aren't careful. To combat this, try to lighten the room wherever possible. This might mean playing with light. If you have good windows, that will help brighten the space. If not, consider choosing a light fixture with an adjustable bulb. This way, you can dim the light or make it brighter when necessary. 
You may also consider a lamp. This will add additional lighting. On darker evenings, you can brighten the space up. Opt for cooler lighting colors instead of warm colors. The cooler light will make the space look more lively. 
8. Lighten the Space Where Possible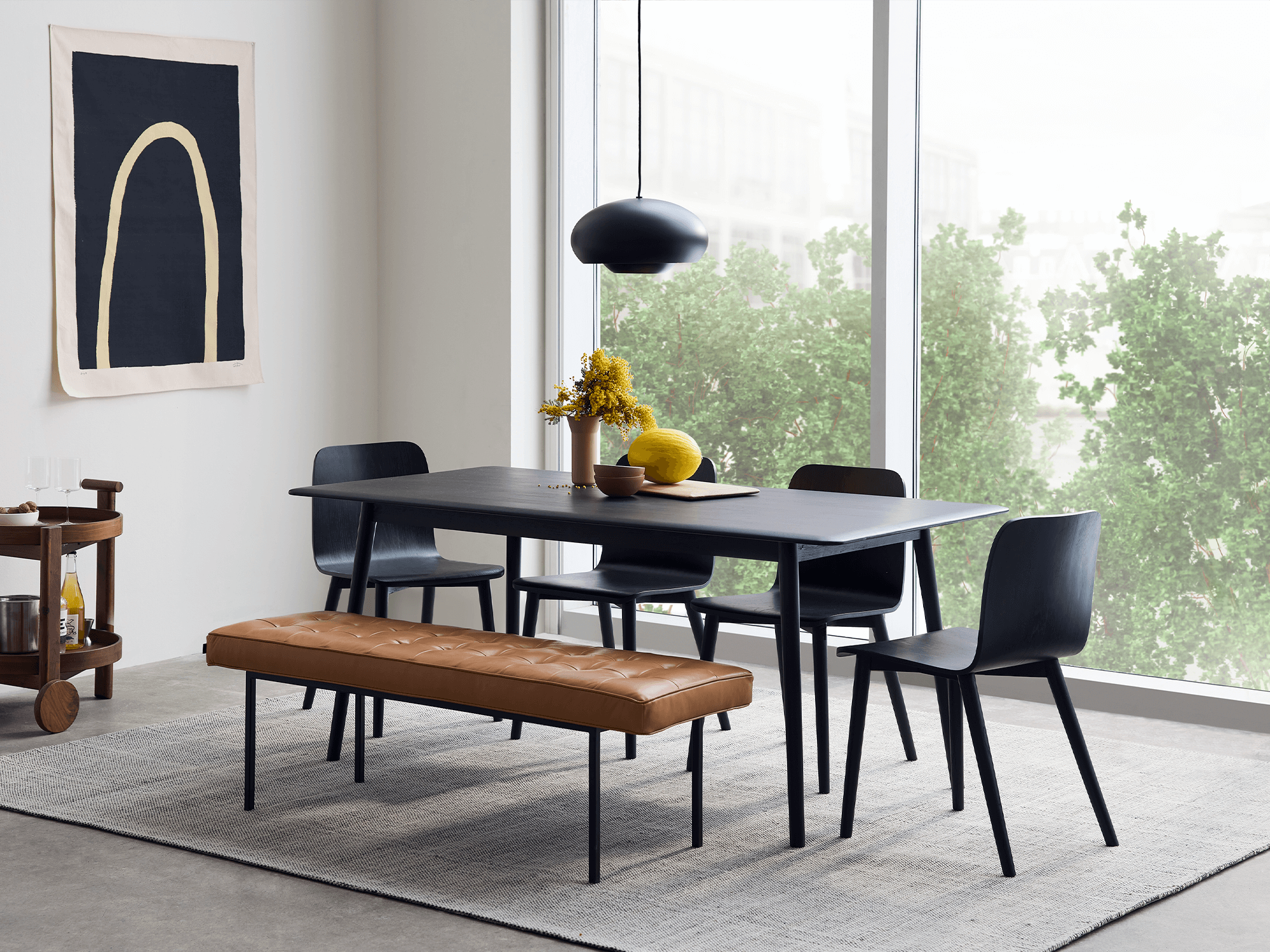 If you've opted for a black dining table, it's probably best to stray away from deep red walls or a black feature wall. Make the table the deepest feature in the room. Aside from that, choose lighter features. This means that the walls should be on the lighter side of things. Accent with decor, artwork, and window treatments that aren't too dark. 
When using a black table, the table will be the edgy piece in the room. Otherwise, the space could begin to look mid-century gothic (which looks awesome when well-done!) Be mindful about what kind of theme you're going for. If you want one edgy statement piece, then lighten it up with other features. This will also help the space look larger. 
Conclusion
A dining table is an investment. They are expensive but can last years. Opting for a black dining table is edgy and moody. It can look incredibly chic when done correctly. This article has provided helpful tips for transforming your table into a well-designed statement piece. By adding lighter accents and playing with light and pops of color, your black dining room table can be one of your favorite pieces in the home.